Welcome to Android Studio Quiz Game Tutorial!
In this course, I'll show you lots of new stuff that I didn't include in Catch the Ball series.
For example:
– SQLite database
– AdMob Banner Ad
– Update APK to Google Play Store
– Google Play Games (Leaderboard & Achievements)
Before Purchase
Please check preview videos so that you can know what kind of videos I created.
I made this course especially for the people who learned the basics of Java.
You can watch every step and create exactly the same app, but I'm not explaining every single code. (Of course, there are many notes and tips on the videos!)
This course is

Non-refundable.
Chapter 1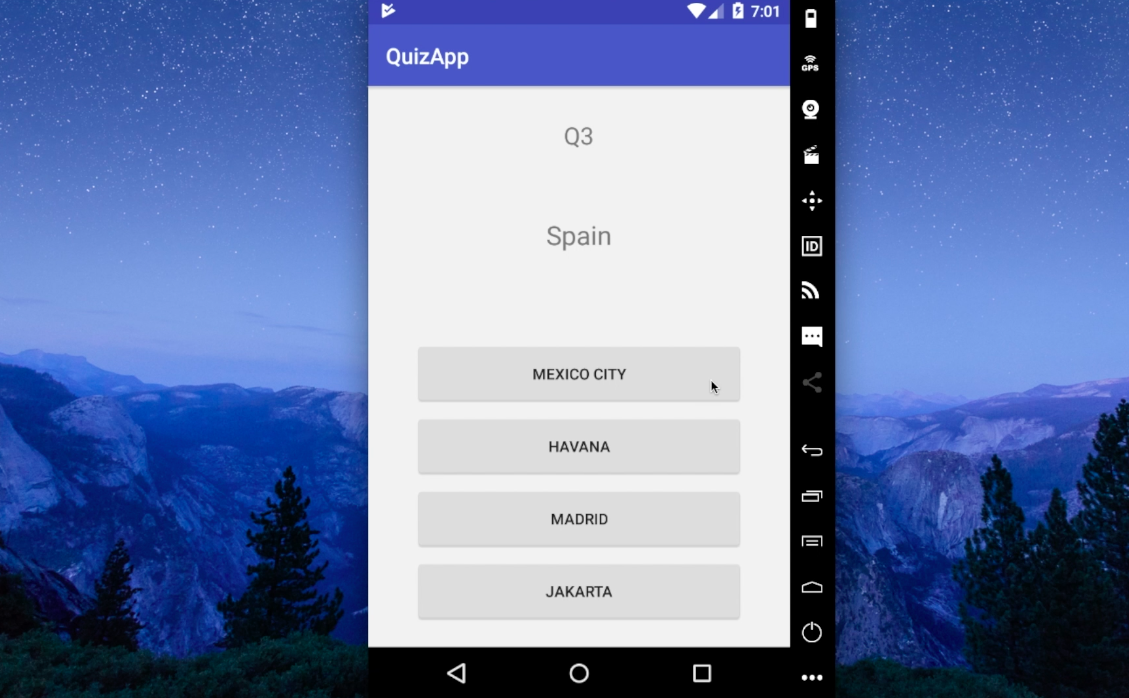 This chapter is completely free, and you can develop the quiz app!

You'll learn:
- Create the quiz set.
- Display question and choices.
- Check answer.
- Display results.
- Save score.

If you just want to know how quiz game works, definitely try it!
Chapter 2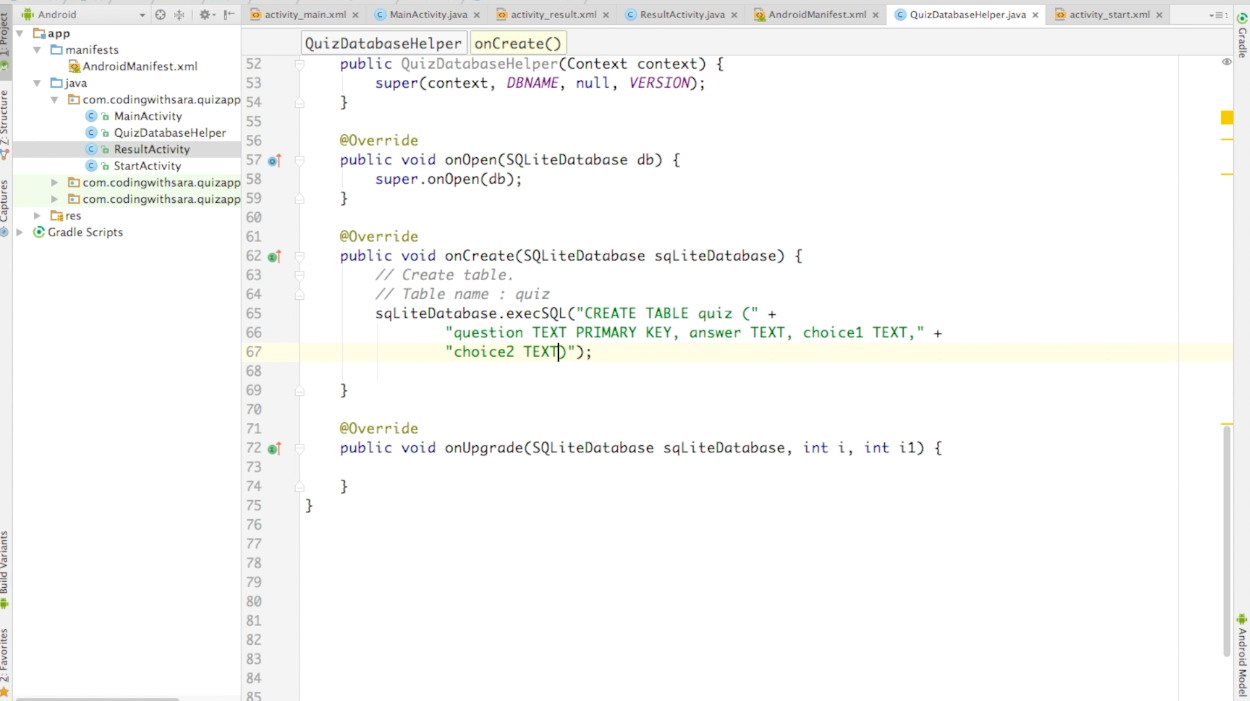 In chapter 2, we're going to add more features.

Feature1: SQLite Database
In chapter1, we prepared only 15 quizzes. As the quiz app, these are not enough for users. So, I'll show you how to use SQLite Database, and you can generate lots of quizzes.

Feature2: Sound Effect
The sound effect is a necessary feature for games. Let's add correct and wrong sounds, and keep users from getting bored! (I'll give you downloadable sound files.)

Feature3: AdMob Banner Ad
After releasing the app, generating revenue is the significant part. I created the video about the interstitial ad in catch the ball tutorial, so we're going to implement the banner ad in this tutorial. If you combine interstitial and banner ads, you'll be able to make more money!
Bonus
Google Play Games - Leaderboard & Achievements -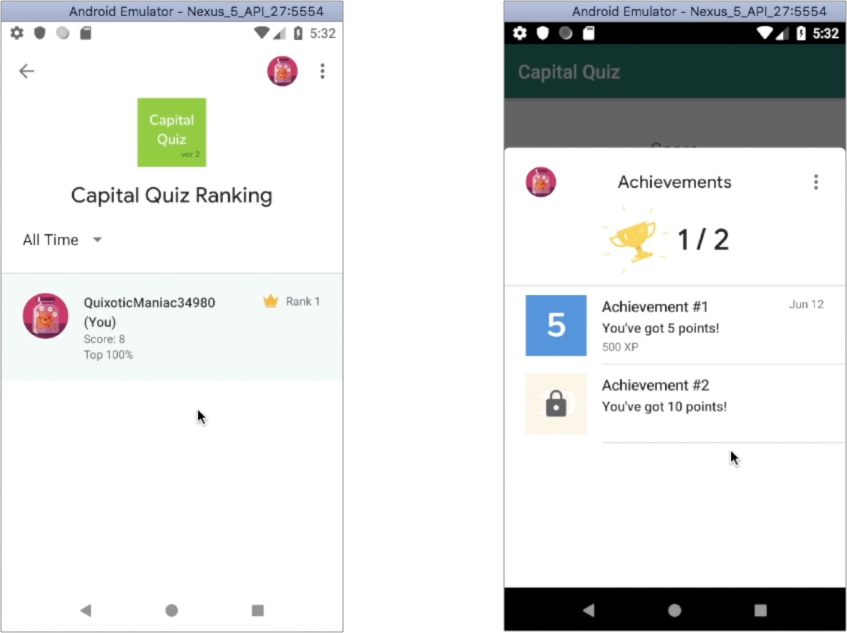 In the bonus chapter, we're going to connect to Play Games Leaderboard & Achievements!

When I first tried to connect Play Games, I had read many documents and blog posts.
I could implement it, but it was super complicated.
In my tutorial, I don't want you to feel the same way!
I wrote code as simple as possible and included images that help you to understand.
Frequently Asked Questions
Can I use the code for my project?
Of course! You can use the code for your project. Giving credit is not required but always appreciated :)
How long do I have access to the course?
After enrolling, you have unlimited access to this course for as long as you like. You can come back anytime you want.
Can I post the code on my blog or Q&A forum?
It depends. If you want to post some of the code online, please hide unrelated code as much as possible. DO NOT redistribute the contents, including sample code, videos, and images.
How can I purchase the course?
You can use credit/debit cards and PayPal. You can also use Apple Pay® and Google Pay™ if available on your device. Please try accessing this page from your mobile devices.
Your Instructor Hi, I'm Sara. I'm working as a freelance programmer in Japan.
Until 2013, I hadn't had any coding experiences and programming knowledge. I also didn't have any college degree. (I still don't have one.)
And now, I'm working as a programmer. I'm developing websites and systems for companies and publishing over 10 mobile apps by myself.
Even if you don't have a college degree or coding experiences, please don't hesitate to try it.

I'm here to help you to learn how to code and become a programmer.
Hope you enjoy coding with me :)


Website: https://codingwithsara.com
YouTube: https://www.youtube.com/codingwithsara
Twitter: https://twitter.com/codingwithsara
Facebook: https://www.facebook.com/cwsara/